LUBE-Master Fluid Monitoring System
LUBE-Master system provides precise metering and dispensing of Oils, coolants and windscreen fluids for automotive and Industrial applications
Easily interface with your DMS system
Save money by connecting LUBE-Master and your dealer / inventory / sales / administration system

By installing LUBE-Master you can ensure that no oil is ever lost or unaccounted for.


THE FACTS

With a manual fluid dispensing system it's inevitable that mistakes will occur such as:
• Oil not booked out
• Incorrect volume booked
• Oil booked to the wrong job number
• Top ups of oil or anti-freeze not booked out at all
All these oversights can add up to a substantial loss of revenue.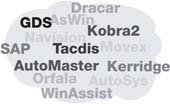 THE SOLUTION

By using LUBE-Master interfaced with your Dealer Management System (DMS), these mistakes are eliminated. The 2 way flow of information between LUBE-Master and the DMS means that only an active job or WIP number entered into the system through the remote keypads will allow any fluids to be dispensed. Once dispensed all the fluids used on that job or WIP number are collected by the DMS and automatically posted to the invoice thus eliminating the possibility of human error.
WE TAKE CARE OF IT

We do all the work ourself. When the LUBE-Master installation is complete, the interface with your DMS works straight away. Currently we have over 140 different links to Dealer Management Systems that are programmed to work perfectly with minimal configuration. Several of the Dealer Management Systems LUBE-Master can interface with are shown in the illustration but there are many others. Please contact us for a comprehensive list.


SET UP A CONNECTION IN 5 MINUTES

If a driver doesn't exist, we have generic drivers for text file export, database export (ODBC), XML file, Excel file etc. These drivers can also be customized to suit your needs in a few minutes, by editing a single configuration file